SolarPure UF
Healing Waters International
The SolarPure UF is a compact semi-industrial water treatment and bottling plant. It can treat up to 20,000 Liters per 12-hour day using 400 W in solar power mode and filter water with a minimum input of 50W. The core water treatment technologies are Ultrafiltration and Activated Carbon. ^Interview ^with ^representative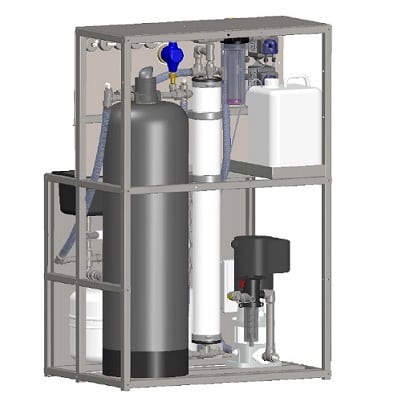 The SolarPure UF is a compact semi-industrial water treatment and bottling plant. It can treat up to 20,000 Liters per 12-hour day using 400 W in solar power mode and filter water with a minimum input of 50W. The core water treatment technologies are Ultrafiltration and Activated Carbon. ^Interview ^with ^representative
Locations without access to safe drinking water but a reliable water source at the site location. ^Interview ^with ^representative
Uganda, Rwanda, and Kenya were listed as target regions by Jibu, a distributor.
Distributors/implementing organizations
Distributed by Healing Waters. Implemented in Uganda, Rwanda, and Kenya by Jibu. Interview with representative
Market suggested retail price
$15,200 USD per unit, does not include solar panels. Significant quantity discounts are available. Typical operating cost (including labor) is $0.005/liter. Interview withrepresentative
Living Water Treatment Systems.
Water stores, entrepreneurs, sustainable micro-businesses, and other income generating activities. Additionally, implementers who want to either sell water at a low price to open the market to those who need it most, or with plans to use the profits for other beneficial purposes. ^Interview ^with ^representative