In 2004, the earthquake in the Indian Ocean and the tsunami it triggered splintered fishing villages along the coasts of India, Sri Lanka, Thailand, Indonesia and Somalia. The blow was cruel, especially to impoverished family-owned fishing operations. But the problems that hound their livelihood are more insidious than a single event, even one as destructive as a tsunami. Artisanal, family-owned fishing businesses in the region seem to teeter between disasters, some natural and others self-inflicted.
In India, overfishing of shallow coastal water has pushed some artisanal fishers to ply deeper water, often in vessels that are built without regulatory oversight. Fishers live for days or weeks on small boats without basic facilities. No kitchens, dining tables, not even toilets or electricity. Boats are often built by untrained laborers in uncertified boatyards. Construction materials such as fiber-reinforced plastic are unfamiliar to the builders. Storms break boats apart. Fishers who are injured at sea have little recourse except to wait for landfall. A puncture from a hook left to fester can lead to an amputation.
The industry is overdue for a remodel. A local and international network of trade associations, NGOs and government agencies are collaborating to introduce boat design improvements, regulation, training for fishers and new technologies to make deep sea fishing safer and more comfortable. The work is comprehensive, addressing the safety of the fishers at sea and the welfare of their families on shore. This is a look at some of the proposed innovation and the work that is already underway.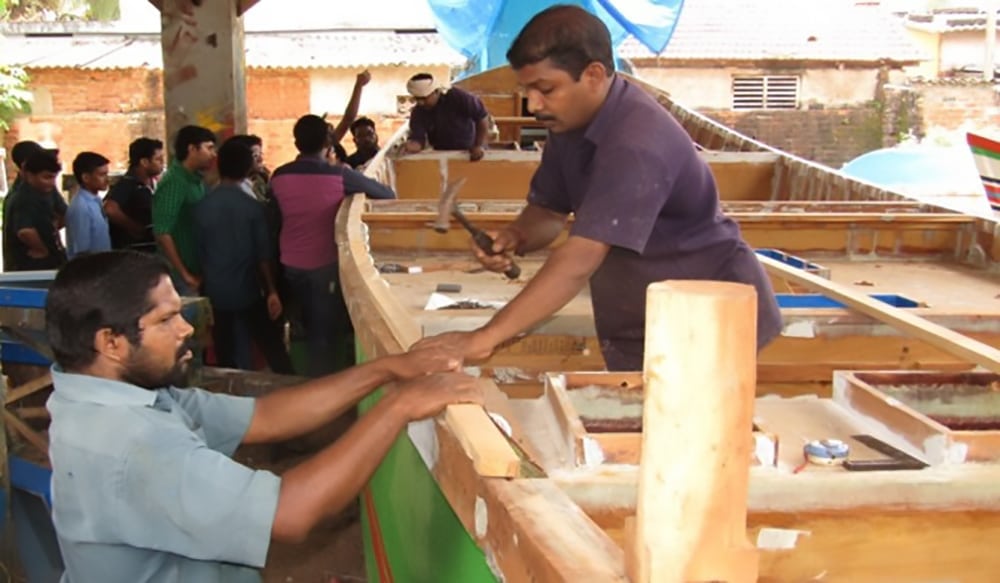 Improved boat design
The artisanal fishing trade is centuries old, built on traditions of boat design and construction that have been passed through generations. Wood, the traditional boat-making material, has become increasingly scarce, however. Since the 1990s, builders have used fiber-reinforced plastic. Untrained workers misuse the material, applying too much heat or using unapproved fillers to increase the thickness of a hull for example. The resulting boats can fall apart in rough water and even under routine stresses such as towing.
"Artisanal deep sea fishermen spend up to Rs.30 lakhs (USD $4415) for building a house and Rs.60 lakhs (USD $8830) for building a boat. Despite spending twice the amount, they don't even have a drawing for the boat and no naval architect or the equivalent of a certified engineer involved in boat building," Vincent Jain, head of the Association of Deep Sea Going Artisanal Fishermen, based in the southern Indian state of Tamil Nadu, writes.
"The owner of the boat might not know the optimum thickness of the hull. They might not be aware of the design and size of the wheel house and the actual dimensions of the boat. The boat builder may use sub-standard materials for building boats, which boat owners may not be aware of," Mr. Jain writes. The comments were included in a report on the First Consultation on Safe Boat Design and Boat Building to FAO (UN Food and Agriculture Organization) Standards.
Mr. Jain's association represents 4 million fishers and their families in 3288 coastal villages. Only about one-third of the boats these fishers use are mechanized, built with inboard motors and outfitted for deep sea expeditions. Another slightly more than one-third have outboard motors and the rest use sails and oars.
The lack of regulation and investment has left fishing boat technology in India about two generations behind that of developing countries. Mr. Jain says. The FAO has examined Indian artisanal boat designs, many of which are indigenous and unique to the region. The organization made recommendations to improve designs for safety and comfort while preserving cultural tradition.
Boats should be a safe shelter at sea, S. Karikalan, a trustee at AMET University said in the same meeting. AMET offers accredited maritime courses and has pledged to work with the artisanal fishers association. But the work to upgrade boats is sometimes hampered by a universal and all-too-human resistance to change. Toilets are an example.
"During the last two to three years we have been trying to put some toilets on board fishing vessels. We have apprehensions on the stability part, if we bring toilets from outside and also in some states fishers have superstitious beliefs that this would hamper their work. Fishers say they do not have enough fresh water on board to maintain the toilets. These are the constraints we face so all these aspects have to be factored in before when we design a boat." Dr. Vijay Kumar Yaragal, Deputy Director of Marine Products Exports Development Authority, said.
But the fishers have cleared the first hurdles. A naval architect oversaw the design of a new boat and this year the the South Indian Federation of Fishermen Societies built the region's first boat built to standards that the fishers devised.
"It is the first time a fishing boat was built with the drawing or layout designed by a Navel Architect," Mr. Jain told E4C.
Tools and training
While further boat design improvements are underway, Mr. Jain and the fishers' association have introduced new education courses and amenities for existing boats. The association collaborates with the international Institute of Electrical and Electronics Engineers through a program called Special Interest Groups on Humanitarian Technology. Mr. Jain heads the Artisanal Deep Sea Fishers SIGHT.
The SIGHT's long-term goals are to develop safer boat designs that meet FAO standards, as well as a monitoring system for boats at sea. For the moment, however, the SIGHT has been holding workshops in skills such as solar light and panel construction and first-aid.
Fishers often walk a precarious line just above financial collapse. Their trade is dependent on changing fish stocks, weather and other events that are out of their control. Technological innovation is helping to prepare the fishers and increase their income so they can weather the lean times.
The SIGHT has developed a solar-powered cart that women in fishing families use to haul the catch from harbor to market. The group has made ice makers for the women who sell the fishers' catch. And fishers' families have learned to preserve and package fish for sale, adding value to raw goods. The new fish products include "Mummy's Tuna Pickle," tuna fried rice, tuna cookies, and others.
The small gallery below shows photos of the courses and innovations courtesy of Mr. Jain. For more, please see the fishers' association's website, or contact us if you are interested in following up with Mr. Jain or the association.