The cost of electronic sensors and mobile technology has dropped low enough to network hardware and infrastructure even in the world's poorest and most underserved communities. The result is a budding Internet of Things that improves services, maintenance and technology deployment in global development.
Before cheap sensors, water pumps broke and latrines filled and people simply quit using them. Maintenance crews did not know there was a problem unless they received a call or sent teams into the often remote areas where the technology was delivered. Now, pumps, stoves, bridges, farms, homes and just about anything that can take a sensor can report on itself wirelessly. Designers can learn how people use their products and they can make adjustments to improve performance. Pumps that break and power stations that fail can alert repair crews instantly.
This is a sample of some of the promising applications of remote sensing in global development.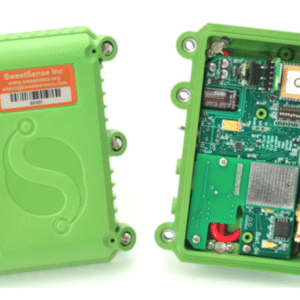 SweetSense lost an opportunity when it forewent the name "Sixth Sense," because that sums up its role in technology for global development. The company's low-cost sensors add a dose of magical remote-monitoring awareness to products from bridges to kitchen stoves.
The SweetSense technology package combines off-the-shelf sensors with a circuit board that samples at a high rate and puts logged data online via GSM or Wi-Fi. With an online program called SWEETData, users can process and visualize the data.
The sensors can be customized for each applications. In one notable example, SWEETSense modified its sensors to monitor pedestrian traffic on bridges built by the non-profit footbridge-building organization Bridges 2 Prosperity. The sensors tallied daily use and variations in traffic patterns throughout the year, allowing B2P to analyze the impact of its bridges on each community.
Another interesting application is toilets. The sanitation non-profit Sanergy partnered with SWEETSense to add sensors to their waterless toilets. The sensors alert operators in urban slums when toilets need service.
For more field applications see this video.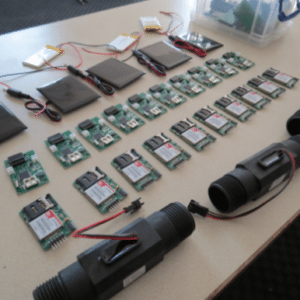 MoMo, short for Mobile Monitor, sensors usher infrastructure into the Internet of Things. The devices are low-powered and flexible with an integrated GSM cellular connection. Place the sensors on hardware such as a water pump, and the devices send data about traffic, trends in usage and warnings of breakage or maintenance needed. The MoMo system includes a data collection platform  that gathers information that the sensors generate in a central location. Users can visualize large infrastructure systems and search for weak points, failures, plan future development and so on.
The sensors have been tested in Ethiopia, Uganda, Rwanda and Tanzania.
Other products compete with MoMo, including SWEETSense sensors, mentioned above and AFD-1 Water Flow Sensor
Watch a presentation video of MoMo.
Clean cookstoves enjoy worldwide stardom as the poster child of technology for global development, but researchers have begun to realize that they don't fulfill at least one of their promises. Long-term studies have not found an improvement in respiratory health among households that use clean stoves. Further study suggests that cooks might not be using the stoves even if they have them, and many households appear to use the stoves alongside open fires and traditional smoky cooking stoves.
So, how can a stove designer know if the technology is working? Nexleaf Analytics created StoveTrace to track usage and fuel consumption. StoveTrace sensors upload temperature data over a cellular network to a database in the cloud. Coupled with findings from lab tests, Nexleaf can use the temperature data to estimate fuel usage. The sensors can run indefinitely when connected to the household's power or solar panels.
As you would think, research suggests that sensor data is more accurate than call-in surveys. And sensor data can help put hard numbers on the emissions and wood reductions that clean stoves have promised. Those numbers can enable payments from carbon offset markets and climate funds to the households that use the stoves.
African farms produce fewer crops than they could. They could meet more of their potential if farmers were to choose the best crops for each region and use the right fertilizers and amounts of water. To do that, farmers need soil maps.
Aerial drones, satellite images and folks gathering soil samples are combining their data to create digital maps of African farms. The initiative by the African Soil Information Service can improve crop yields by revealing traits of the soil and vegetation. Now halfway through a 15-year timeline, the service's goal is to publish dynamic digital maps of all of Sub-Saharan Africa at a resolution high enough to serve farmers with small plots. The maps will be dynamic because AfSIS is training people to continue the work and update the maps even after the initiative ends.
And speaking of drones, they have many other uses in global development. One interesting use is for surveillance of conflict zones. Drones can capture video of interactions between combatants, authorities and citizens, and so on to monitor for human rights abuses.
Fishers encroaching on protected marine areas may have a harder time taking advantage of their anonymity on the mostly unwatched seas. Their undoing could be a combination of satellites, identity transceivers and a new algorithm that spots ships that seem to be fishing. Global Fishing Watch tracks ships and plots their locations on a publicly available world map for all to see.
The system helps verify that fishers are respecting Marine Protected Areas, and it can help hold cheaters accountable.
In 2016, 33 countries created a network of Marine Protected Areas that should quintuple the protected space in the world's oceans from 2 percent to 10 percent by the year 2020. How to monitor and enforce fishing bans in those areas became a central issue. Now, with Global Fishing Watch, anyone from activists to journalists to governments can monitor ships in protected areas through the organization's site.
Farming enters the digital age with electronic sensors in the UjuziKilimo Kit. The kit analyzes the soil through a sensor inserted into the ground and uploads its findings, plus GPS coordinates, to a database in the cloud. The system pours over the soil data and adds information from weather stations. It then sends SMS (text) messages to farmers with personalized advice on preferred crop breeds, pest control, the market value of crops and so on.
A low-cost, low-powered sensor in a baby hat monitors newborns' key vital signs. Neopenda, a prototype still in the early testing stage, targets nurses working in neonatal intensive care units in developing countries.
The device falls squarely into a trending category of health technology in global development: Wearables for babies. Another interesting example is Bempu, a bracelet for newborns that alerts caregivers to hypothermia. Bempu's algorithm combines time and body temperature data to predict imminent hypothermia, which can afflict infants even in warm climates.
Fire is a terrifying prospect in the world's densely packed urban slums. More than 300,000 people die annually in fires worldwide, and millions more are permanently injured. Almost all of these deaths and injuries – 95 percent – occur in l0w- and middle-income countries, with urban slums accounting for an outsized share.
Lumkani attempts to protect the world's most at-risk people with its small fire alarms. The alarms register the rate at which heat rises in a small residence. If it detects a possible fire risk, the alarm connects with neighboring devices to set off a chain of alerts so that neighbors can intervene. Newer versions also communicate with home owners via SMS, as well as with local emergency services.
The devices are deployed in informal settlements in South Africa and they have been tested in Namibia and piloted in Kenya.
AgroPestAlert applies artificial intelligence to pest control on farms. The bug traps work as a wireless network that captures insects and analyzes their wing beats to identify species and even sex. Placed throughout the fields, the traps communicate with the system to predict an imminent invasion. It's still in development now, but when complete the system will send alerts to phones, tablets and computers and use an easy-to-understand visual tool to cue farmers instantly.
The system could cut more than two weeks off the time it normally takes for farmers to become aware of an invasion. Today, farmers often use glue traps. Workers place glued boards throughout the fields, wait two weeks, then collect the boards of stuck insects to take to a lab for analysis. An automated system like this could reduce manual labor on farms and issue early alerts that could allow farmers to reduce their use of pesticides.
The MakeSense project deployed cubical DustDuino air quality monitors in residences of São Paulo, Brazil. Intended as a citizen-led data source for local media that could lead to cleaner air policies, the project became stuck in the logistics of building and manufacturing hardware. To their immense credit, the team behind the project published an honest and detailed account of their work in a report at the link above.
The team did develop an interesting technology, regardless of the broader goals they may have missed. The DustDuino air quality sensor prototype integrates with FrontlineSMS and sends its measurements to a database for display on a platform called Open Dust Map. The team left extensive documentation as a step up for new research in the future.
See a video on Open Dust Map here.
tags: clean cookstoves, Internet of Things, mobile apps, mobile data collection, pest control