This article is adapted from a presentation the author gave to IEEE Global Humanitarian Technology Conference at Santa Clara University in September of 2022 — Revolutionizing the Retail Informal Sector in Africa: Use Case of the Smart Kibanda Project.
---
The simple kibanda, the kiosks that are home to most Kenyan retail outlets, are undergoing an upgrade with a solar energy supply and features that preserve food and make life easier for Kenya's small business owners. I've led a team of 14 volunteers with IEEE Humanitarian Activities Committee / Special Interest Group on Humanitarian Technology (IEEE HAC/SIGHT) to design, build and deploy four kiosks, and we learned valuable lessons I'd like to share with others interested in carrying out this kind of project.

IEEE HAC/SIGHT granted us (USD) $5000 to fund the Smart Kibanda, our project that aims to solve major problems in Kenya's traditional retail outlets. A kibanda is an open-fronted mini-store favored in the informal business sector. About 80 percent of retail outlets in Kenya operate from a kibanda, meaning there is a high chance of seeing one every 100m or so in cities and towns. These informal outlets contribute to an informal retail sector that comprises about 55 percent of GDP in sub–Saharan Africa.
As an engineering professional, I worked with the student engineer Chris Murimi to co-lead a volunteer team of 14 people who set out to improve the kibanda. The Smart Kibanda project kicked off on the 1st of November 2021 with the aim of developing five fully equipped smart Kibanda units.
The project development process included the Planning, Design, Development and the Deployment Phases. The core team was divided into four sub-teams which included the Electrical and Smartness team, Mechanical and Structural team, Research team and the Finance and Operations team. The project also included other temporary volunteers as highlighted below.
The core team underwent intense professional and technical development throughout the project design and development phases conducted by the temporary volunteers who were composed of both IEEE and non-IEEE Members. These expert volunteers were selected based on their expertise on the topic of discussion. Below are the highlights of the training sessions.
I conducted two physical technical workshop sessions on Product Design and Development and Design Thinking in two separate months to facilitate effective planning, design, development and deployment. These sessions utilized the use of product design, development and management tools and practices focused on developing project work plan, tracker, budget, online collaboration and documentation. The team worked entirely through cloud-based tools, relying most often on the Google Suite, including Google Meets, Drive, Sheets, Docs, Forms, Slides and YouTube, and others such as WebEx.
During the user research period, we realized that many customers preferred fresh groceries which have not been frozen or refrigerated to maintain their natural taste and also validate their shelf life. It was also highlighted that what is "Smart" to a "Mama Mboga " / "Groceries Lady" is not what is smart to an engineer or a high-level professional in a middle to high economic and social class. Due to these considerations, the features and devices adopted in the units included:
Solar-power system – 100W solar panel, 24v inverter, 24/12v charge controller, 75AH battery.
Solar panel security system – Reed switch, timer, and alarm.
Door security system – smart padlock.
External security bullet lighting.
Electrical system – 2 lighting AC bulbs (inside and outside), AC socket.
Due to high cost of including refrigeration units in the Kibanda, the team opted for alternative solutions and adopted the following features to improve the shelf life of commodities:
Perforated shelves to allow for enough ventilation and air circulation for commodities in the shelves.
White/orange interior to maintain low temperatures in the interior of the units.
Wide front doors to allow for more air to flow into and out of the unit.
The shelves were also placed in a manner to facilitate natural air circulation for cooling.
Elongated roofs especially on the front side to protect groceries especially from afternoon sunshine.
Four (4) Units were deployed out of the five (5) which were initially proposed. Two were given to individuals while the others were given to organizations. The consideration on who would benefit from the units was based on the following:
The Impact – This was measured on the number of people who would benefit directly from the project i.e. members of the family, members of an organization.
The Need – This was measured by the income of the beneficiaries and how important the unit is to them.
The Reach – This was measured by the population within the location and the interactions of the population with the unit.
Sustainability – this took into consideration proper management and care of the kibanda.
Reliability of the person, organization management structure and reputation of the individuals and organizations considered.
The final solutions were determined based on the following considerations: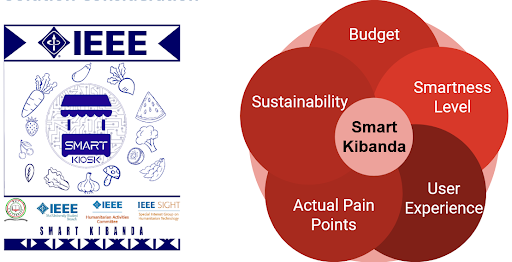 After thorough scrutiny the following were selected as the Smart Kibanda beneficiaries: –
Tumaini Innovation Center: Enrolls and rehabilitates street youths in its transformational and innovative educational program. Tumaini has a total of 180 youths directly and indirectly linked to the institution.
KIMPLWAS (Kimumu People Living with AIDs): Focuses on taking care of street children and orphans with HIV and AIDS. It has about 75 children currently.
Hellem Mutai (Mama Hellem): Located at Moi University Mabs area. She is a female greengrocer in her early 50s. She has operated the Kibanda business for over 20 years and has a family of seven and the kibanda business is key for her family.
Monica Koech (Mama Carol): Located in Moi University Kesses area at the Kesses Market Square. She is an elderly-female-greengrocer with a family of five.
The Smart Kibanda project was multidisciplinary and demanded a multifaceted approach to accomplish its outcome and impact. The project was scalable and sustainable since it had strong community buy-in due to its holistic approach in tackling social-economic and environmental challenges as seen below.
Documentation of the Smart Kibanda Project Success has been shared through:
Smart Kibanda Project Full Documentary (embedded below)
The plenary presentation at IEEE GHTC was well received by the conference attendees both from the academia and industry through its successful demonstration of collaboration and partnership. The broad nature of the project in making products for real world use driven by undergraduate university students was a great takeaway from the presentation. The presentation brought a great demonstration of commercialization of academia research guided by industry to create solutions through appropriate technologies for humanity advancement.
---
About the Author
Kithinji Muriungi is an Engineering for Change (E4C) Fellow 2022 and a BEng (Electrical and Electronics) alumnus of Moi University, Kenya. His E4C Fellowship was sponsored by Autodesk Foundation and he worked on Kickstart International's Electronics Design Capacity Building Impact Project. He has been an active IEEE volunteer for the past eight years where he has worked on multiple local impact projects, including the one described in this article.