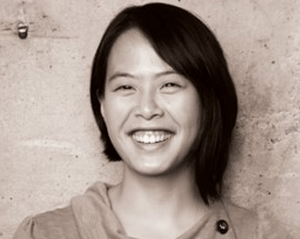 For the inventor, one of the draws to design in developing economies is the wide range of technologies that you can work with. Low-tech innovation is interdisciplinary by its nature. Jessica Vechakul exemplifies the principle. As a Massachusetts Institute of Technology graduate and doctoral candidate in mechanical engineering at the University of California, Berkeley, she has developed bicycle ambulances in Zambia, a charcoal fuel in Haiti, an automatic chlorine doser for drinking water (see E4C's coverage here) and a better HIV data collection system, among other projects.
In fact, If there's a theme in her work, it could be the variety of her experience. She has worked in nearly a dozen countries, developed incredibly different kinds of technologies and worked in several fields, from mechanical engineering to marketing. She is an IDEO fellow and a Gobee Group fellow.
We caught up with her between trips and asked her five questions.
E4C: Your work in appropriate technologies has been incredibly varied. In that experience, have you seen a general rule for how to ensure a technology's success?
JV: I don't believe there's a way to ensure success. You can increase the likelihood of success if you focus on what people need and want. This may sound obvious but it's incredibly tempting for us to assume that we know what is best for others, without asking or listening.
E4C: What has been one of the most instructive mistakes that you've made?
JV: I used to work on technologies without analyzing the market need or developing a plan for dissemination. I thought that these other issues were not the responsibilities of engineers. I'm learning that we have think more broadly and work in interdisciplinary teams to figure out the system around the technology if there's going to be any hope for success. What is the real need? Is technology the answer? What policies, education components, support systems, etc. need to be in place? What's the implementation strategy or business plan for this holistic solution?
E4C: What is one of the promising trends that you see in technology design in developing countries?
JV: Local inventors are gaining recognition for their expertise and skill. Indigenous knowledge and ingenuity are everywhere. Everyone has creative potential. If people are given the opportunity to learn basic skills about designing enterprises and technologies, anyone can create solutions to address challenges in their own communities.
E4C: What do you think is a dead end in your field that some people just won't let die?
JV: People often get excited about new technologies and inventions. Novelty has appeal even if there is no proven need or small-scale success. Donating technologies without understanding what the end user really needs or figuring out how to sustain the system in the long term is a commonly repeated mistake.
E4C: How do you thinking engineering education will shift within the next five years?
JV: The ability to work in interdisciplinary teams is so important. Creativity and innovation thrive at the intersections of different perspectives and experiences. Students who gain the skills to communicate and collaborate with others with diverse backgrounds will be more likely to develop more revolutionary and effective ideas. Giving students the opportunity to work on real-world challenges with actual community partners can teach so much more about life than a textbook.
tags: appropriate technology, design principles, Development Engineering, product designer, zambulance