Market Suggested Retail Price
Distributors / Implementing Organizations
Manufacturing/Building Method
Intellectural Property Type
Distributions to Date Status
Treatment of cervical intraepithelial neoplasia (CIN 1 and 2)
Rubber gloves, a plastic apron, mask, tap water containing a detergent such as Enzol, high level disinfectant/sterilant fluid, reservoir solution
110-240 volt outlet (electricity)
Indispensable equipment for function
Tap water containing a detergent such as Enzol, high level disinfectant/sterilant fluid, reservoir solution, electricity
Maintenance or calibration required by user at time of use? (Y/N)
Each CryoPen reaches the optimal surgical temperature of -105° Celsius without cryogenic gases or liquids. CryoPen re-usable tips are available in 3mm, 10mm, 19mm, and 24mm sizes. More information can be found in the CryoPen GY2 Cervical Attachment Brochure.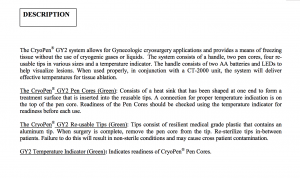 Regular user maintenance is encouraged in the user manual. If there is a suspected problem with the device, call CryoPen at 1-877-246- 3955. Purchase of the device includes a limited one year warranty. CryoPen, Inc. agrees only to correct or replace, at its option, any CryoPen system that shall be returned to CryoPen, Inc. Transportation of the unit will be prepaid by the original owner, after being placed into service by the original owner, provided that CryoPen, Inc. is satisfied that the equipment was originally defective in either workmanship or materials. Normal wear and tear is not warranted.
To order additional supplies, the user should contact CryoPen, Inc. at 1-877-246-3955
Battery life for the CryoPen is estimated at 5 years and at that point should be returned to CryoPen for a replacement battery.
Manufacturer Specified Performance Parameters
CryoPen, Inc. is a medical device company dedicated to the research and development of innovative, technologically advanced medical products and applications that will enhance the quality of our lives. The LMIC-adapted CryoPen overcomes barriers to standard gas-based cryotherapy by eliminating dependency on gas, increasing portability, and ensuring consistent freeze temperatures. Further testing and evaluation of the adapted CryoPen will be pursued.
Vetted Performance Status
Performance: In 80% of the cases in the pilot study, the adapted CryoPen achieved the target depth of necrosis 3.5 mm established in the pathology review.
WARNINGS: - If re-usable tip gets stuck on skin, remove the Pen Core from tip by gently rotating counter clockwise to unlock it and allow to thaw. - This device should be used with caution on patients with diabetes, peripheral vascular disease or cold intolerance problems. - Do not perform cryosurgery using GYN attachment when ECCa is positive for CINb . - - Gynecologic cryosurgery is not recommended for patients who are pregnant. - Do not perform Gynecologic cryosurgery on lesions not fully visible or extending beyond the range of the cryotherapy probe. - Do not use the electrical charging unit near or in water. Doing so may cause electrical shock resulting in serious injury or death to the user. - Do not use an extension cord. Use of extension cords may present potential fire hazards. - Explosion hazard! Do not use in presence of flammable anesthetics. Unit contains 1oz. of an ethanol based proprietary solution. - Ethanol is poisonous! May be fatal if swallowed and harmful if inhaled or absorbed through skin. Please refer to Material Safety Data Sheet regarding the ethanol based reservoir solution. - Reservoir solution contains alcohol (ethanol). Avoid skin contact with the reservoir solution on persons taking the medication ANTABUSE®. - The CryoPen Pen Cores are extremely cold. Accidental contact with core may result in frostbite. Touch only the green plastic handle when core is at cryogenic temperatures. - Do not use the CryoPen® Pen Core without a sterile tip. Doing so will expose your patients to non-sterile conditions and may cause cross patient contamination. Pen Core could also become stuck on patient's skin thereby causing injury to the patient. - Do not use E-beam, Gamma radiation, or Ethylene oxide to sterilize tips for Gynecologic or General Cryosurgery use. PRECAUTIONS: - Never leave the chilling wells open. Doing so will render your unit inoperable. Always replace a cold pen core with a warm pen core that has been wiped dry and dipped in the CryoPen Reservoir Solution, or use the black non-functional core to replace a cold pen core. - Use of CryoPen® on lesions with hair, may cause patient to lose hair. - Use of CryoPen® on lesions in areas where pigment is critical to patient, patient should be made aware that change in pigment may result. - Federal Law restricts this device to sale, distribution and use by or on the order of a physician. - Handle the pen cores with great care. Dropped pen cores will be damaged and may become trapped in the pen tips. - Cold pen cores should be placed in a tip or defrost wells immediately to avoid damage. - Clean CryoPens® Pen Cores by wiping down with soap and water or with standard solutions such as isopropyl alcohol. Clean only when they have reached room temperature. Do not submerge the Pen Cores. Doing so will render them inoperable. - Should CryoPen® GY2 tips become attached to the patient, remove the GY2 pen core from the GY2 handle and insert a room temperature pen core into the handle, allow to thaw, and then remove the tip from the treatment area. - GYN attachment handle contains two, AA alkaline batteries. Dispose of batteries according to applicable regional and national laws. Upon failure, batteries may be replaced with AA, alkaline batteries. Use of rechargeable cells is NOT recommended. - Discontinue use of Aluminum reusable tip in the presence of discoloration or tarnishing and alert CryoPen Technical Support. - Please refer to current clinical practice guidelines to determine which patients with cervical cancer precursors are candidates for cryotherapy. Always properly clean device according to manufacturer instructions after each use. Other safety precautions can be found here
Complementary Technical Systems
Academic Research and References
Compliance with regulations
Explore similar solutions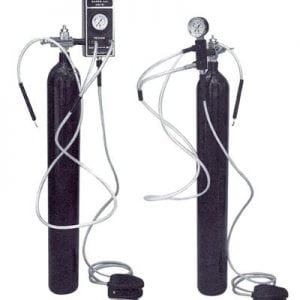 Agriculture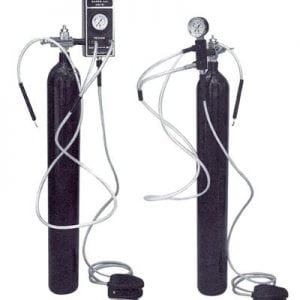 Agriculture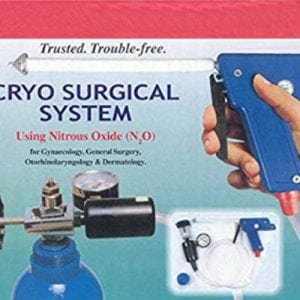 Agriculture
August 5, 2019
Super Deluxe Silencer Gun Model: CRYO-004
Read Solution
All Solutions
Get more information about Solutions Library and its features.
Learn More