Diamedica Baby CPAP
Diamedica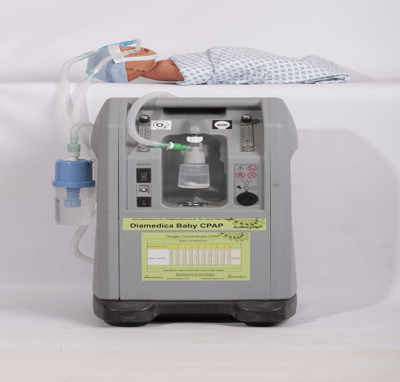 The Baby CPAP is primarily targeted for use in African countries. The product is intended to be used in harsh environments (high humidity and temperature, dust, frequent power fluctuations and cuts).^(Interview with distributor)
Distributors/implementing organizations
Most Baby CPAPs are sold and distributed by Diamedica. Diamedica also has a partner distributor in East Africa, Joh Achelis & Söhne GmbH, that sells the Baby CPAP in Kenya, Tanzania, Uganda, Rwanda, Burundi, and Zambia.
Market suggested retail price
The Baby CPAP is sold by Joh Achelis & Söhne GmbH for 3500-4300 USD.Interview with distributor The price varies depending on the location and number of units requested.
Goal 3: to improve and promote good health.
Infants and preterm babies in respiratory distress.