Since it was first recognized as a field in the 20th century, the science of robotics has contributed to significant productivity and efficiency gains across a variety of industries. In the 21st century,
robotics and automation (R&A) technologies have evolved to be
a vital part of the technology for development (tech4dev) ecosystem
improving the quality of lives in underserved and underrepresented communities worldwide. In this webinar, Raj Madhavan will explain how to separate alarmist opinions reported by the media and perceptions created by Hollywood movies from the real impact on communities by providing an objective and unskewed view of R&A in global development.  
Join this webinar to:
Learn about R&A in global development through recent case studies

Understand the role of technology and public policy issues in bridging the gap between what is possible from an engineering/scientific viewpoint and

what

the expectations of the general public are

See

some

examples of efforts in bringing together researchers, academia, industry, and government to address the challenges in development and deployment of R&A solutions

Presenter: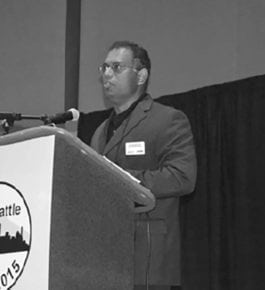 Raj Madhavan is the Founder & CEO of Humanitarian Robotics Technologies, LLC and a Distinguished Visiting Professor of Robotics with AMMACHI Labs at Amrita University, Kerala, India. He has held appointments with the Oak Ridge National Laboratory (March 2001-January 2010) as an R&D staff member based at the National Institute of Standards and Technology (March 2002-June 2013), and as an assistant and associate research scientist, and as a member of the Maryland Robotics Center with the University of Maryland, College Park (February 2010-December 2015). He received a Ph.D. in Field Robotics from the University of Sydney and an ME (Research) in Systems Engineering from the Australian National University.
Over the last 20 years, he has contributed to topics in field robotics, and systems and control theory. His current research interests lie in humanitarian robotics and automation – the application and tailoring of existing and emerging robotics and automation technologies from a variety of domains, including unmanned (aerial, ground) vehicles. He is particularly interested in the development of technologies and systems that are cost effective, reliable, efficient and geared towards improving the quality of lives of people in under-served and underdeveloped communities around the globe. He has authored over 185 papers in archival journals, conferences, and magazines including three books and four journal special issues.