India has long been a technological powerhouse and the country's engineers have made headlines recently with Asia's first Mars orbiter and possibly the world's cheapest car, the Tata Nano at USD $2000. We've also seen important humanitarian and appropriate technologies rolling out of the country's workshops. These are ten that caught our attention.
Low-cost sanitary pad manufacturing machine
Arunachalam Muruganantham became famous as a man who wore sanitary pads. He wore the pads to test improvements that he was making to his sanitary pad manufacturing machine. The finished product presses 16,000 pads per day from wood pulp and polyethylene film. It is available through Jayaashree Industries. For comparisons please see other low-cost sanitary pads in our Solutions Library, including BeGirl Flexi Pads, EcoFemme Subsidized Pads, go! Pads, MakaPads and more.
Ashudhdhinashak low-cost sanitary pad incinerator
With the influx of low-cost sanitary pads it follows that someone would create a practical way to dispose of them. Ashudhdhinashak, which means "destroyer of impurities" in Sanskrit, is a ceramic sanitary pad incinerator that costs ₹2000, or USD $30.
AUM voice prosthesis for throat cancer patients
Throat cancer patients who undergo a laryngectomy to remove tumors can no longer breathe through their mouths. Instead, they breathe through a hole in their throats. A voice prosthesis can cost USD $200-$300. But now the surgical oncologist Dr. Vishal Rao has created a prosthesis that costs only ₹50, or USD $1. See its performance in a test with a patient in the video above.
Jaipur Foot prosthesis for amputees
The non-profit society Bhagwan Mahaveer Viklang Sahayata Samiti (BMVSS) has fit more than 400,000 Jaipur Foot prostheses to above- and below-the-knee amputees in India and 25 other countries. The prosthesis is handmade from high-density polyethylene, rubber and wood in a laborious process that starts with a plaster-of-paris mold of the amputated limb. BMVSS works with international partners, including the engineering firm Design Revolution in San Francsico, to test and fit other low-cost prostheses such as the ReMotion Knee. Compare Jaipur Foot to other products in our Solutions Library.
JANMA Clean Birth Kit
Zubaida Bai co-founded ayzh, a social business that sells JANMA Clean Birth Kits that reduce the risk of infection during and after birth. The kits include a sterile underpad, surgical scalpel, umbilical cord clamp, a bar of soap, a cloth and an instruction sheet. And all of the gear comes in a reusable jute purse for $2 – $5, about half the cost of comparable products. We asked Zubaida five questions, which you can see here. And see our Solutions Library for details on JANMA Birth Kits and side-by-side comparison to other products.
ReMeDi telemedicine for rural healthcare
Healthcare in rural India can cost more than in the city. Doctors are scarce, so it takes time and money to travel to the nearest clinic, which can often be in a different village or in the closest city. Rather than making patients go to the doctor, Rajeev Kumar and his company, Neurosynaptic Communications, have brought virtual doctors to rural patients. Through their ReMeDi telemedicnie system, Kumar and his team have put doctors on computer screens in 2000 rural locations in India. Each location is a mini clinic complete with diagnostic exams and an onscreen consultation. The doctors can diagnose and prescribe treatment without seeing the patient in person. ReMeDi has caught the attention of award givers, including ASME's iShow, which the system won in India in 2015.
Tata Swach water purifier
Tata created Swach as a low-cost water purifier priced for the average Indian consumer to afford. It is gravity driven and inactivates pathogens in water using silver nano particles. The cost starts at ₹1,175.00 or USD$17.83. Compare Swach to other water purifiers in our Solutions Library.
Nari Solar Water Purifier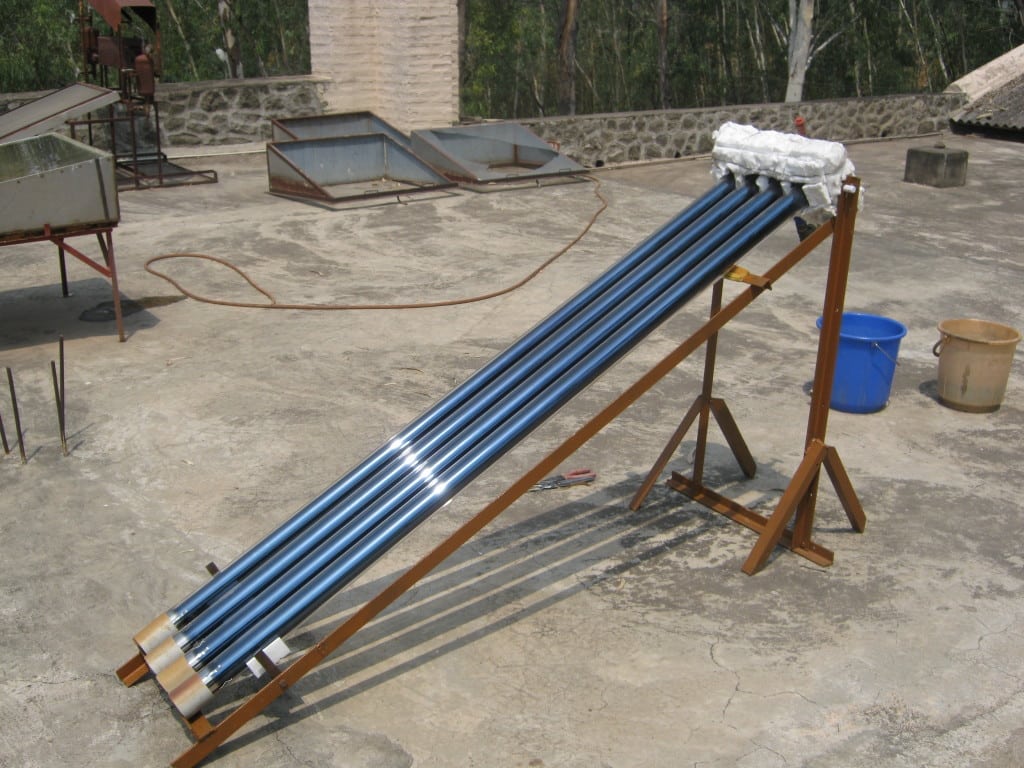 Straining through a cotton sari can remove some of the grit and large suspended particles from dirty water, and sunlight can disinfect it if it is left in a plastic bottle in the sun. Those are two of the simplest ways to treat water and now there's a system that combines them. The Nari Solar Water Purifier begins with a four-layer sari cloth filter. The water is then placed in tubular glass pipes to heat in the sun. The disinfection works even on cloudy days as the dark glass can absorb enough solar energy to heat the water to 55°-60°C (130°-140°F) for three hours. Research shows that that is enough to  sterilize the water.
Agni Star rice husk stove
India has at least one native entrant in the worldwide explosion of clean-burning cookstoves. Nav Durga Metal Industries has created the Agni Star Rice Husk Gas Stove, a portable, forced draft, single- or double-burner gasifier. Clean-burning stoves like this one cost more than the open fires that they replace, but if they are used correctly they can reduce respiratory disease caused by indoor smoke, add years to cooks' lives, reduce deforestation and cut expenses in buying wood or other fuel. Compare the Agni Star to other stoves in our Solutions Library.
TINYTECH Portable Biogas Plant
TINYTECH India and Aadhunik Global Energy developed and manufacture this home-sized biogas plant that turns kitchen and yard scraps and agricultural waste into usable natural gas. Compare this portable biogas plant to other plants and biodigesters in our Solutions Library.
Edible spoons (bonus No. 11!)
Chinese takeout has solved the utensil problem with biodegradable wooden chopsticks, and for India, now there is Bakey's Edible Cutlery. Rather than toss plastic spoons that take 450 years to decompose, eaters on the go can just eat their spoons. Bakey's founder, Narayana Peesapaty, has made spoons out of a blend of wheat, rice and millet flours. They come in plain flavor, onion and tomato, garlic, ginger, spicy or sweet. And the plan is to sell them at about the same price as the cheap plastic that they're meant to replace.
tags: 10 things, biogas plants, clean cookstoves, clean water, India, prosthesis, Sanitary Pad, telemedicine