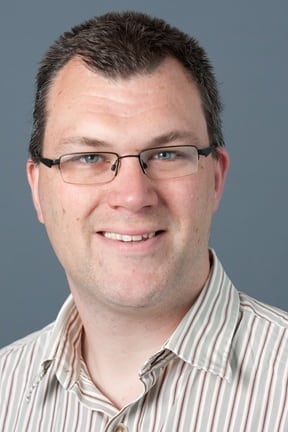 Jon Hurt has a rare point of view on global development technology, combining his engineering industry perspective with a recent appointment to the Board of Directors at the global development non-profit Engineers Without Borders USA. Mr. Hurt leads Arup Group Limited's Tunnel Practice in the Americas and coordinates the philanthropic program for the region. E4C asked Jon Hurt five questions.
E4C: With your 'industry perspective' on engineering for global development, would you tell us why it's important to a business like Arup to support work in this sector?
JH: Ove Arup's legacy is a firm that places social purpose high among its values.  Today, through our Community Engagement program, we actively encourage and support Arup staff to participate in charitable activities as a key part of our contribution to shaping a better world. In many cases we believe that we can achieve the greatest impact by primarily supporting staff to volunteer their technical skills and know-how across a broad range of projects and activities.  The primary reason for our support for EWB-USA is that this allows our staff to participate in projects that harness their skills to work towards a better world in which no person goes hungry, lacks shelter or clean water and sanitation, faces social and economic exclusion, or lives without access to basic health services and education. For Arup, supporting the Community Engagement program is a rewarding and satisfying experience that has created and developed strong bonds.  Corporate social responsibility is not just a policy at Arup, it's a way of working, and it's embedded in everything we do.
E4C: How does that look in practice?
At Arup, we aim to deliver a program of Community Engagement activities that is inclusive, integrated, inspiring and impactful.  It is made up of three strands:
Local Engagement: providing support to organizations and communities that are local to our offices across the world and for whom our skills are particularly relevant.
Development: providing technical assistance to community based, and international, organizations; delivering projects that improve people's lives in developing and newly industrialized countries.
Disaster Response and Recovery: enabling our people to respond to humanitarian needs by supporting fundraising initiatives and responding to requests for technical support.
E4C: As the world works toward the UN's Sustainable Development Goals, have you seen any notable trends among businesses like Arup and its peers?
JH: The SDGs provide a coherent framework for businesses to base decisions on and to measure the impact. At Arup, we have a strong commitment to sustainable development which drives our priorities and actions. The SDGs are now being used at board level to guide our work and our business, and to be a filter through which we judge our success.
E4C: What are some of the important developments we might see at Engineers Without Borders USA?
JH: This year holds a lot of exciting changes for EWB-USA as it progresses with EWB-USA 2.0 and develop plans to open a third country office in Uganda. The EWB-USA 2.0 approach involves narrowing our focus to target the countries that need our help most. We are going deeper, not wider, by moving to a field-driven approach. This concentrated effort allows for the implementation of projects that scale and replicate — an ideal that we have not been able to achieve with our past method of operation. Country offices staffed with experts, such as our current field operations in Guatemala and Nicaragua and the proposed Uganda office, will guide our programming in the future. The Board has an integral role in guiding EWB-USA through this shift by helping think through the funding and operations components of migrating to a field-driven approach to development.
E4C: Your work with Arup is in tunnel design. What are your thoughts about how underground spaces might help eradicate poverty?
JH: This is an interesting question – tunneling is often needed to provided large-scale infrastructure for wastewater conveyance, stormwater management, water distribution, hydropower generation and efficient transportation. However, due to its scale, it needs a certain level of political and financial stability to implement, and as such I would see it not as a primary means of addressing the most abject poverty. It certainly has a role in raising living standards by improving sanitation, water supply and transport systems, particularly in cities.