Product Description
The SOCCKET is a portable, power-generating soccer ball designed to promote physical activity and spread awareness about the global energy problem. However, this product has been discontinued since 2016.
Engineered by Uncharted Power, previously named Uncharted Play, in New York (USA), and grouped by the company as MORE technology device (Motion-based, Off-grid, Renewable, Energy), the Soccket was commercialized until 2016.Interview with representative
Distributors / Implementing Organizations
Manufacturing/Building Method
Intellectural Property Type
Until 2016, users could obtain the product directly from the manufacturer.
Distributions to Date Status
The Soccket distribution exact number is unknown, however, according to PRI, Uncharted Play (company's previous name) planned in 2014 to begin distributing 50,000 products/year. One of their first distributions took place in Puebla, Mexico in March 2013. 150 products were distributed by Mexico's biggest TV network, Televisa. Distribution of the product stopped in 2016.Interview with representative
The Soccket converts rotational energy into electrical energy. Design specifications include a custom MORE micro-generator, a pendulum, PCB and rechargeable lithium-ion battery, all engineered inside each ball. Kicking the Soccket moves the pendulum which in turn rotates the generator and then charges the battery. Product materials are rubber, recyclable plastic, lithium-ion battery, metal gears and motor. It weighs 0,45 kgs and its diameter is 23 cms.
No specific training need to use this product, however, for further support contact the manufacturer.
Manufacturer Specified Performance Parameters
The company's main target is is help power the rapidly developing smart communities worldwide by utilizing the untapped kinetic energy available in a clean and renewable way.
Vetted Performance Status
Socckets were reported to be dysfunctional after a couple of days or a month of use.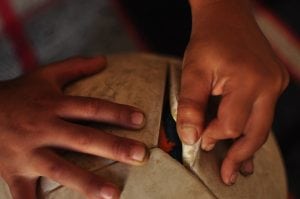 There are no potential hazards when using this product.
Complementary Technical Systems
Between the MORE technology devices (Motion-based, Off-grid, Renewable, Energy) Uncharted Power also designed 
The PULSE
, a portable, power-generating jump rope. The company has
vehicular, pedestrian, and lifestyle solutions
 commercialized business-to-business (B2B).
Interview with representative
Further details of the solutions can be seen in this
video
.
Academic Research and References
Compliance with regulations
As of November 16, 2017, Uncharted Play changed the company's name to Uncharted Power. The company posted a letter apologizing for failing the Soccket campaign.
Get more information about Solutions Library and its features.
Learn More